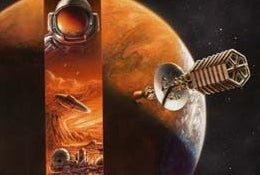 While real scientists prepare to listen to the sounds of Mars , AMC is getting ready to let us watch the Red Planet as well... or at least, a fictionalized future version of it, courtesy of a new television version of Kim Stanley Robinson's Red Mars .The adaptation of Robinson's 1992 novel is coming from an unlikely source: Jonathan Hensleigh, the writer of Bruce Willis astronaut disaster movie, Armageddon . Hensleigh, whose other credits include Die Hard With A Vengence and 2004's The Punisher , will be the writer and executive producer of the series which AMC's VP of original programming Jeremy Elice calls more character-driven than you may be expecting: "It's not the spectacle of sci-fi that you typically see." Not that there won't be any spectacle, as Christina Wayne, senior VP of original series and miniseries at the cable channel explains:
This fits in with our bigger vision of wanting series that feel like cinematic one-hour movies... We're always looking for big genres but to do them in slightly different ways so they feel fresh and new.
The series is just one of a number currently in preparation at AMC for a 2009 start, including a series based on Glen David Gold's
Carter Beats The Devil
.
AMC plans Mars mission
[Hollywood Reporter]