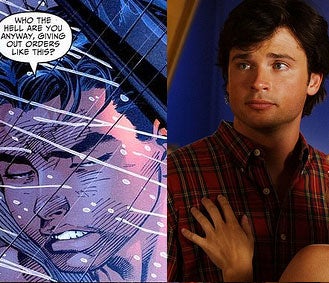 There was just one upside to the stories about the CW ordering a pilot of The Graysons , a show about Dick "D.J." Grayson before his acrobat parents died and he became Robin, Batman's sidekick: at least it seemed like that show would replace Smallville , and put that eight-year baby-Superman angst fest out of its misery. But no. Smallville/Graysons producers hastened to clarify that The Graysons doesn't spell the end for Smallville , and in fact they hope the shows go together.The first few episodes of the new Smallville season have been literally exhausting, I can't bear to watch any more. Now that Michael Rosenbaum's suave Lex Luthor is gone, there's just nothing compelling about this show. Everyone has been speculating that this will be the final year of Smallville , and maybe lead into a fun Lois and Clark reboot. But alas TV execs are denying Smallville its rightful death. Smallville executive producers Brian Peterson and Kelly Souders released a statement that season 9 was already on the drawing board, and there was no way The Graysons would end the series.
Never have we been so committed to the continuing success of Smallville as we are to seasons 8 and 9.... [We] are all working full-steam ahead on a storyline for Clark that allows for seasons of further trials and adventures for our favorite hero.
They also told Kryptonsite.com that
The Graysons
was never seen as a replacement for
Smallville.
So it looks like we're getting both, blech. [
TV Guide
]