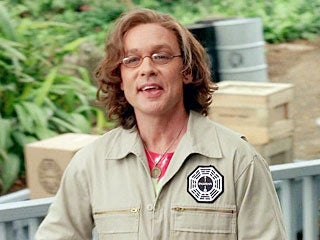 Horace Goodspeed isn't going anywhere in next season's Lost , so if you thought his ghostly presence was the last of the do-gooder population on the island, you were sorely mistaken. As we mentioned the other day, he'll be in at least a handful of upcoming episodes. But the story of how actor Doug Hutchison came to be involved in Lost , and his confusion over his return to the show, are a Lost -worthy saga in their own right, as Hutchison explained to Sci Fi Wire.After initially brushing off the part of Horace Goodspeed, Hutchison wasn't interested, because he didn't want to have to audition. But after some convincing, he finally landed the role of the island's good-natured hippie leader. But after he was introduced and then killed in the same episode, Hutchison washed his hands of the character — until he was sent another script:
"I got the script, and sure enough, now Horace Goodspeed…I don't know," Hutchison added. "I don't know what's going on. Nobody knows what's going on on that island, but I'm either a ghost or a memory, a figment of one's imagination or a piece of the island. I could be I'm conjured by the island. I shot that out in a day, and now I got a call from my agent about a month ago saying, 'Lost would like to have you do at least four episodes for this coming season, pending your availability.' I don't know what they have up their sleeve. I'm lost!"
And he'll be back in the new season as well. I always liked Horace and loved watching him die and then pop back up with a smile on his face. I welcome you back and thank you for not playing hacky sack on the island.
[Sci Fi Wire
]