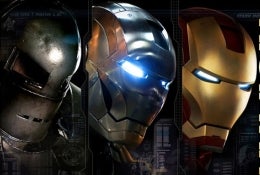 It's time for prepare yourself for a rash of "Hello, I'm a PC, I'm a Mac, and I'm Iron Man" parodies, as Marvel's movie franchise-friendly hero steps into the format wars for home computers with the announcement that Dell are offering customers the chance to buy new computers with Robert Downey Jr.'s summer blockbuster already preloaded on there for near-immediate gratification. Because, sometimes, even Netflix and iTunes require too much effort. But what does this move actually mean ?The Hollywood Reporter is reporting that complete digital copies of Iron Man (including DVD bonus footage — although both that and the movie will only be available in SD, not HiDef) will be offered for $20 as part of Dell's customized purchase process:
"Iron Man" will be presented as an option to consumers as part of Dell's personalized purchasing process, which allows buyers to customize virtually every facet of their PC from such essentials as storage capacity to stylistic touches like laptop-cover artwork. The Paramount/Marvel Entertainment film would be preinstalled on Dell's Inspiron, Studio and XPS laptop and desktop models. While Dell is getting started with "Iron Man" as a preload, the company eventually will broaden the selections as it signs other studios. In time, Dell likely will enable consumers to purchase films after they've bought computers, too.
This isn't the first time that a Marvel character has led the way towards possible digital revolution; Nokia offered
Spider-Man 3
as a preload on various regions' versions of their N95 last year, leading to the famous "WTF is this jazz shit" handheld riots of 2007. Neither Dell nor Paramount are talking about what kind of DRM will be accompanying Tony Stark on his journey to your new computer, although Dell have said that customers will be able to burn one copy of the movie onto DVD. Is this enough to make people want to buy a Dell instead of another type of computer? I'm unconvinced — especially as you can buy the movie on iTunes or DVD for at least five dollars less. And everyone knows that Tony Stark would never be seen dead with something as clunky looking as a Dell, anyway.
Superhero support available at Dell
[Hollywood Reporter]