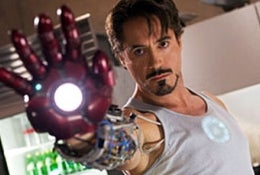 Maybe it's the promise of faux Shakespearean dialogue, or perhaps just the lure of a truckload of money being backed up to his house, but arthouse Kenneth Branagh is in talks to take on the director's chair for Marvel's 2010 summer blockbuster Thor , in which the thunder-wielding Norseman is actually an alien. And that's just the first of two big pieces of Marvel Studios news this morning, as Marvel also announced what film they'll be doing to follow-up on The Avengers as well.Branagh's potential involvement in Marvel's next movie — in which, according to the Marvel: Your Universe panel at this year's San Diego Comic-Con, Thor's Asgardian background will be less about being a Norse Deity and more about being an alien from another dimension — was announced by Variety , which managed to put the suggestion in context with other superhero movies:
Branagh is the latest in a string of directors — such as Jon Favreau ("Iron Man"), Christopher Nolan (the Batman franchise) and Gavin Hood ("X-Men Origins: Wolverine") — with arthouse roots taking on big-budget comicbook fare.
Favreau may become better known for his big-budget comicbook fare if today's other Marvel announcement works out: that Marvel Studios have extended their distribution contract with Paramount for their next five movies, the fifth of which - to follow 2011's
The Avengers
- is apparently planned to be a third
Iron Man
movie.
Branagh in talks to direct 'Thor'
,
Paramount, Marvel extend pact
[Variety]