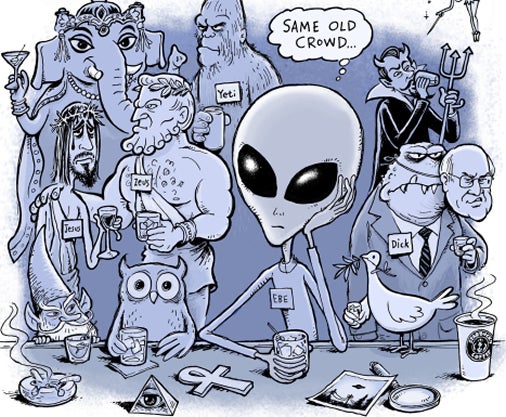 In two weeks, UFO enthusiasts will flock to Jersey City for the 2008 Culture of Contact Festival, a three-day conference on alien encounters and extraterrestrial life. But don't expect any conspiracy-filled Powerpoint presentations or Roswell-style alien cosplay. Instead, the festival will focus on extraterrestrial-inspired arts, what an Obama presidency would mean for UFO disclosure policy, and whether the ancient gods were, in fact, visitors from outer space.The Jersey City festival brings together UFO researchers and self-professed alien experiencers to share their stories as well as alien encounter-themed art, film, music, and technology. Included among the speakers are Stephen Bassett, a lobbyist working to change the government extraterrestrial disclosure policy, and William J. Birnes, host of the History Channel's UFO Hunters . But the overarching theme of the conference is "Mythology Is Reality," and it'll focus on the possible intersection of the extraterrestrial and the divine. Looking to phenomena such as the Egyptian Pyramid Texts and the Hopi belief that their ancestors came from the stars, participants will explore the possibility that human mythology is actually a factual record of ancient alien encounters:
From antiquity we have these stories of beings descending from the heavens and imparting huge leaps in culture and knowledge upon the people of all countries—ALL countries, think about that—but because we've devolved into materialist rationalists in total control of our domain, that fact is completely unacceptable to us, so it is disregarded as primitive mythology. Our goal is to give life back to the supposedly unreal timeline and show how only the reintegration of this line into factual history completes the distorted picture of humanity. We will demonstrate through artwork, film, and music, as well as talks from alternative historians and present-day experiencers of these beings who descend from the sky, that these "myths" are really factual explanations of nonhuman contact events stretching from the gods of antiquity to the alien abductions of post modernity.
The festival runs from October 16-18. Tickets for the full event are $40.
Culture of Contact
[via
Alien Casebook
]