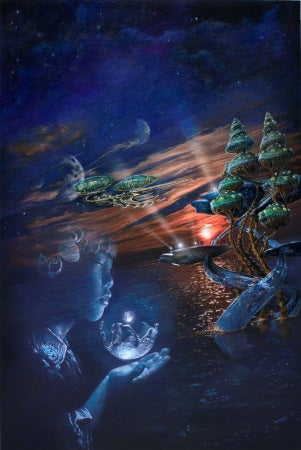 It's almost October, and you're hungry for books. You've finished Neal Stephenson's Anathem, and if you live in the United States you are gritting your teeth while waiting for Ken MacLeod's latest burst of brilliance, The Night Sessions, to be released stateside. Luckily, we've got all kinds of readerly goodness coming up for you in October. Of course there are monsters and zombies, but there are also some politically-savvy tales of posthuman wars, as well as one mothy menace.
If you're looking for a good collection of short stories, you might want to dive into acclaimed author Michael Swanwick's latest collection, The Best of Michael Swanwick (Subterranean). Guaranteed literary weirdness from this two-time Nebula winner. Zombies are getting allegorical and literal on your ass in John Joseph Adams' latest anthology, The Living Dead (Nightshade), which includes a ton of great stuff which you can sample here. Also don't miss Pyr's latest scifi collection, Fast Forward 2, edited by Lou Anders.
Here are some more notable scifi books coming your way in October.
Eric Brown, Necropath (Solaris)
Set on a spaceport called Bengal Station that dominates the airspace between India and Burma, this is part of a series about the cultures of a future Earth that is still divided between rich and poor, East and West. A telepathic investigator stumbles on a drug-fueled cult on the space station, and find himself caught up in conflicting loyalties and a hellish romance.
Tobias Buckell, Tides from the New Worlds (Wyrm)
A limited-edition collection of short stories from the guy who brought you ninjas vs. space zombies on a floating city in the awesome novel Sly Mongoose.