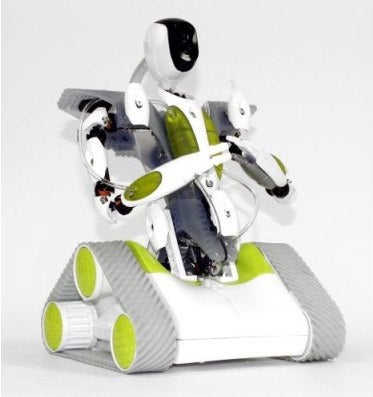 You're on vacation, but you still want to spy on what your roommates are doing in your house. Or maybe you just want to be sure your boyfriend remembers to feed your cats. Either way, you're in luck with the new Spykee robot (pictured), a robot that's remote-controlled via internet phone service Skype. That means you can call your robot from anywhere in the world, guide it around your house, and see what it sees. The Spykee site says, enticingly, that you can:
Watch video of your own home from anywhere in the world while the the Rovio mobile spy robot patrols your home automatically for you while you're away.
Or you could even watch your home while you're not away, just to make sure nobody is doing "bad things" down the hall. The Spykee lets you talk to the people you see in your house via Skype, which should provide hours of fun when people assume the robot itself is talking to them. Plus, you can set up a system where the robot will look for motion, snap a photo, and send it to you via e-mail. That's a great feature for bedrooms, if you know what I mean. Because bedrooms have a lot of valuables in them that you might want your robot to guard for you! Right? Oh, and did I mention you can add on to the robot with legos? I'm so glad the future has brought us a lego-based voyeuristic robot. Can HAL9000 really be far behind?
Spykee
[official site]