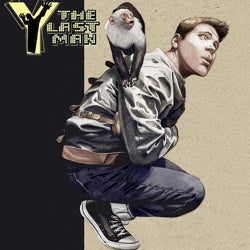 We've all been a little worried ever since we heard D.J. "Eagle Eye" Caruso would be adapting Brian K. Vaughan's genderpocalypse comic book series Y the Last Man with Shia LeBoeuf in the lead role. And now it turns out our fears may have been justified. Caruso said today that he had to add a major new plot point to amp up the action. According to Cinema Blend:
Basically he'll show a lot of what's happening around the world, such as in China, in montages and little vignettes, but for the most part the movie will focus on Yorick and his monkey, Ampersand. There's also been a major plot change from the books, inserting a "ticking clock" with Yorick and Ampersand. Caruso explains, "I separated them, and Yorick starts to get a little sick when Ampersand's not with him. I felt like we needed some kind of ticking clock so it wasn't just a boy and his monkey."
So here's what that means, for those of you who've read the comic books. First of all, we are going to lose all the interesting subplots about how the political regimes of the world reconstitute themselves in the wake of losing every single creature with a Y chromosome. We'll get very few chances to learn about the Israeli military, the Amazonian terrorists, the Japanese all-girl Yakuza, the women's prison-turned-farm-coop, and the female scientists working to make it possible to rebuild the world out of the DNA they've got left. In other words: A comic book about a world entirely filled with women is going to turn into a movie about a dude. Of course, Yorick is the point-of-view character in the books, but his story is in some sense a frame narrative that allowed Vaughan to ask what would happen to a world that has just lost the ability to reproduce, and lost its ruling class (most of the world leaders are still men, after all). Obviously Caruso has to trim some stuff, but why add in this silly plot about how Yorick gets separated from his monkey and is getting sicker? My biggest fear is that that means we're going to see a bunch of extra crap with the monkey running around. And we will all stab our eyes out because we'll have lost all the awesome stuff with Israeli ninja Alter and instead gained a monkey. Vaughan apparently "approved" the changes Caruso made, but it's hard to say what that means. It's not as if disapproving would really get him somewhere, and Vaughan is such a nice guy that I can't imagine him wanting to make a giant fuss over something like this ala Alan Moore. But hey, Caruso also says that "god willing" there will be a sequel. So maybe we'll get a whole lot more monkey in 2011.
Caruso Adds "Ticking Clock"
[via Cinema Blend]