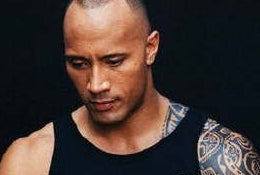 It could be the next Pirates Of The Carribean - or maybe the next Haunted Mansion . Apparently Disney is planning to turn its Tomorrowland theme park into a new movie franchise to star Dwayne "The Rock" Johnson — although they aren't actually admitting it yet.According to a report in Variety, the Tomorrowland script - written by Jon Lucas and Scott Moore, who've specialized in Christmas-themed comedies this far in their career - will see the Rock in "an epic-sized action adventure set in space." Except that, according to Disney, the script has nothing to do with the theme park:
Disney denies the film has been titled "Tomorrowland" or is dedicated to the park's section, a futuristic area of the Magic Kingdom that includes such attractions as Space Mountain. The studio called the nascent project an original script.
One way or another, the movie is being looked at for a 2010 release.
Johnson takes trip to 'Tomorrowland'
[Variety]