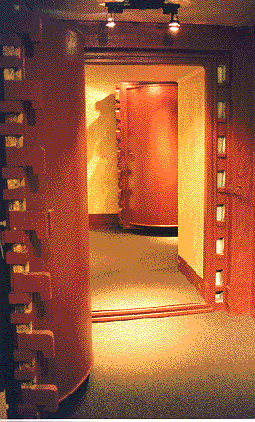 You've always wanted to live in a missile silo in beautiful upstate New York, snow-shoeing during the day and at night cozying up in your bedroom, two stories below ground, that remains at a steady 58 degrees (Earth's ambient temperature). Though most missile silos commissioned by the U.S. government are going to waste, two entrepreneurs have turned this NY silo into a Yuppie paradise, with luxury bathrooms and swanky blast doors shined to perfection. The silo has been on the market since last year, and has yet to find a buyer. Want to know what you'd get if you bought this lovely silo, which comes complete with its own airplane landing strip and 360 degree surveillance capabilities accessed via the "control center" in the silo? Walk through the blast doors (pictured) and see for yourself. According to the real estate agency selling the property:
Thanks to two entrepreneurial cousins, Bruce Francisco and Gregory Gibbons, one of these silos located in beautiful Adirondack State Park near Lake Placid is finding new life as a luxury home safe haven getaway complex accessible by plane or car. The real estate includes 20 acres of land with approximately 78 acres available as 10 approved building lots. The home is conveniently located to Montreal, Lake Placid and Plattsburgh and boast such outstanding year round activities as golfing, hunting, fishing, boating, hiking and world class skiing.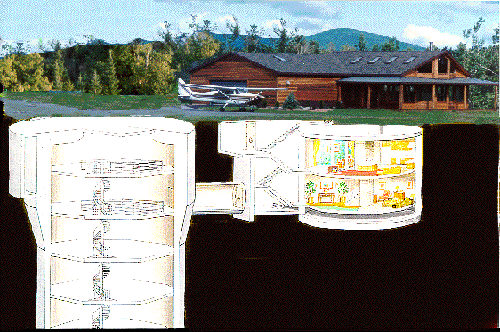 The real beauty part is that there are actually two silos, and only one has been developed. So you've got an extra five stories below ground that you could turn into a post-apocalyptic village complete with mutant defenses and a crazy despotic leader who refuses to let anybody ever return to the surface. The value of this real estate investment can't be emphasized enough!
The Most Unique Real Estate in the World
[Silohome via
Interesting Thing of the Day
]