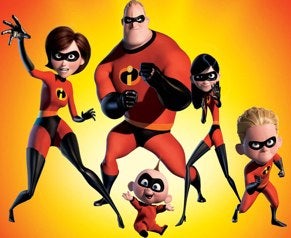 ABC is bringing back your favorite suburban superheroes in its new TV series The Nelsons. For an hour every week, you'll watch as the family crams saving the word in between soccer games, minivan errands and trips to the grocery store. This latest addition in the long line of Hollywood hero work was inspired by the famous Disney CG super family The Incredibles , but The Nelsons will be all live action. What seals the deal for me is if they get the original super dad Coach, Craig T. Nelson, back to play the father.According to the show's producer Barry Sonnenfeld (Men In Black, Enchanted ):
"It is a metaphor of what it is like to be a supermom and overworked dad in modern times."
The show will air on ABC and be a full hour long. This could go one of two ways, let's hope this isn't yet another terrible superhero television show like
Exo-Man
and more in the vein of Nickelodeon's
The Secret World of Alex Mack.
But when you go ahead and compare your show to one of the better Disney movies right out of the gate, you're almost setting yourself up to fail. [
The Hollywood Reporter
]