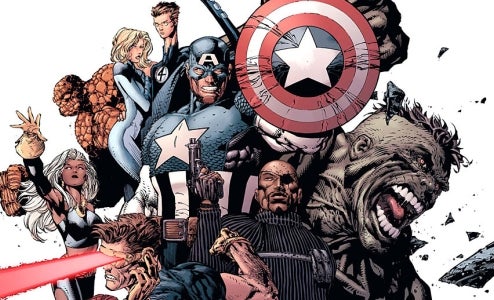 Click to view In case you were searching for some kind of preview for 2011's planned Avengers movie and all the Marvel Studios releases beyond that, the announcement that Wanted and Kick-Ass creator Mark Millar is returning to Marvel's Ultimate imprint to write a series called Ultimate Avengers should give you exactly the road map to the future that you've been looking for.Given that Incredible Hulk and The First Avenger: Captain America screenwriter Zak Penn has previously spoken about Millar's Ultimates series being a major influence on the Marvel movie franchise, it's no surprise that Millar's new series is created, in part, as a template for future movies, as the writer explained to Newsarama:
I'd say the biggest success I've had, the one thing I feel very confident doing, is a new spin on the old characters. Cap, Thor, Iron Man, Nick Fury, Hawkeye... all these guys worked out really well in Ultimates, so much so that Marvel Studios are using them as the basis of the movie characters... and I'd like to extend that a little. I want to do Ultimate Blade, Ultimate Ghost Rider, even Ultimate Tomb of Dracula. I have all the stories worked out already and am very excited by it... Kevin [Feige, head of Marvel Studios] has mentioned this a few times in the past and Zak had a whole panel about it at SDCC in the summer, where he said they're really following the Ultimate versions of the characters as they're the easiest to translate to the screen. It's very complimentary of course.
This wasn't the only Marvel announcement at yesterday's Diamond Distributors retailers summit; they also
revealed
that the fall-out of
Secret Invasion
will appear under special branding called
Dark Reign
, and that the black and white teaser images they've been releasing for awhile are for a new imprint called
Marvel Noir
launching in December.
Ultimate Avengers
launches next year.
Back to the Ultimate U - Mark Millar on Ultimate Avengers
[Newsarama]