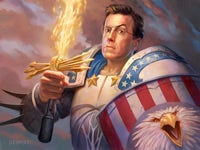 Click to view For those who can't imagine a universe without Stephen Colbert, there's good news. The satirist's DNA is going to be preserved for future generations, and perhaps future civilizations. Video game designer and soon-to-be space tourist Richard Garriott is adding Colbert's genetic code to the Immortality Drive, the digital time capsule Garriott plans to take to the International Space Station to serve as an "offsite backup" for the human race. And should an alien civilization happen upon the archive and decide to clone those inside, Lord British has lined up a few other humans to keep Colbert company.Colbert is reportedly delighted by the prospect of his off-world immortality:
I am thrilled to have my DNA shot into space, as this brings me one step closer to my lifelong dream of being the baby at the end of 2001.
But he won't be alone. Garriott seeks to preserve certain portions of humanity in the event that the Space Station becomes mankind's final legacy:
The Immortality Drive is a digital archive of mankind's greatest achievements and a snapshot of humanity itself. This archive will be stored on the International Space Station to serve as a remote "offsite backup" of humanity, should we suffer a disastrous fate.
Garriott has enabled players on his newest MMORPG,
Tabula Rasa
, to upload their characters and personal messages to the Immortality Drive, and has chosen a select few whose DNA, like Colbert's, will be digitized and preserved. So what does it take to have your genome sent to space? Below are the current Immortality Drive inductees: Entrepreneurs: • Kevin Rose, founder of Digg, Pownce, and Revision3 • Tim Draper, venture capitalist and viral marketing innovator • Robert Scoble, technology evangelist and business blogger Athletes: • Scott Johnson, Olympic gold medal gymnast • Matt Morgan, American Gladiator and professional wrestler Musicians: • Joe Ely, singer, songwriter, and guitarist • Stephen Bruton, producer and blues guitarist • Eric Johnson, guitarist and instrumental composer • Patrice Pike, singer, songwriter, and reality show participant Writers: • Tracy Hickman, novelist and game designer (
Dragonlance
,
The Darksword Trilogy
,
The Death Gate Cycle
) • Scott Murphy, television and screenwriter (
Angel
,
Star Wars: The Clone Wars
,
Flash Gordon
) • Clifford Green, screenwriter (
Spacecamp
,
The Seventh Sign
) • Christiana Miller, television writer (
General Hospital
,
Star Trek: Voyager
) • Daniel Fiorella, television and radio writer, magazine contributor (
Adventures of the Galaxy Rangers
,
A Prairie Home Companion
,
Mad Magazine
,
Cracked
) • Doug Molitor, television writer (
Sliders
,
Teenage Mutant Ninja Turtles
,
X-Men: Evolution
) • Ian Abrams, television writer and producer, director of the screenwriting and playwriting program at Drexel University. • Melvyn B. Sherer, television writer and Andy Kaufman collaborator (
Married with Children
,
Happy Days
,
Small Wonder
) • Steven Melching, television and screenwriter (
Star Wars: The Clone Wars
,
Men in Black: The Series
,
X-Men: The Animated Series
) • Heather E. Ash, television writer (
Stargate SG-1
) The post-human future, it seems, will be ruled by the television writers.
Image by Todd Lockwood.
Stephen Colbert to have his DNA sent into space
[AP]
Operation Immortality