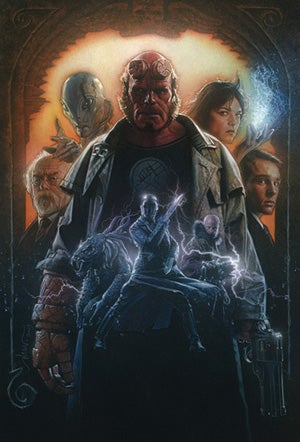 We've already told you about the surprisingly full schedule of director Guillermo Del Toro, but the eagle-eyes of Newsarama's Kevin Melrose found an interesting tidbit of information hidden in a recent Variety story about Del Toro's future. Will the movie adventures of Mike Mignola's friendly red demon continue on the small screen?After listing Del Toro's multitude of future projects (like Frankenstein and Slaughterhouse Five , never mind that whole The Hobbit thing), the end of the Variety article reads:
Meanwhile, del Toro is awaiting word on whether U[niversal] will embrace a follow-up to "Hellboy 2: The Golden Army." The big-budget film opened in the heat of summer and fell short of blockbuster status in the U.S. but has performed well overseas. "I think they'll decide when the last euro hits the piggybank," del Toro said. "We laid the groundwork to have a magnificent third act. I'd like to return to an action franchise with 60-year-old actor Ron Perlman, because he'll be scratching at that age when I get to it." Langley said the studio is interested and may work with del Toro to add a TV series and online segments to broaden the following before making the series finale.
The "Langley" in question isn't the CIA headquarters made famous by shows like
Chuck
and
Alias
- although it would be great if they were the people in charge of future
Hellboy
decisions - but Universal's President of Production, Donna Langley. This isn't the first time that she's spoken in support of the Mignola/Del Toro franchise, but it
is
the first time she's suggested that it may extend to television. Could this be the next
Buffy The Vampire Slayer
in waiting? Only time - and the movie's foreign box office - will tell.
Guillermo Del Toro booked thru 2017
[Variety, via
Blog@Newsarama
]