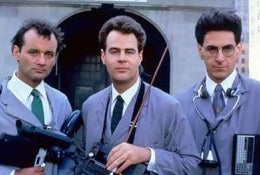 No sooner is a new Ghostbusters movie announced, than rumors start to fly around the internet about whether the new installment will be a reboot, a sequel, replacing the original cast or retaining them, and whether anyone will, this time around, be afraid of no ghosts. Thankfully, co-creator Harold Ramis was on hand to offer a particularly ee cummings-esque helpful update to the confused faithful.Writing to the Chicago Tribune despite the apparent loss of his Caps Lock key, Ramis revealed that at least a couple of the original cast are definitely onboard for the third movie:
yes, columbia is developing a script for GB3 with my year one writing partners, gene stupnitsky and lee eisenberg. judd apatow is co-producing year one and has made several other films for sony, so of course the studio is hoping to tap into some of the same acting talent. aykroyd, ivan reitman and i are consulting at this point, and according to dan, bill murray is willing to be involved on some level. he did record his dialogue for the new ghostbusters video game, as did danny and i, and ernie hudson. the concept is that the old ghostbusters would appear in the film in some mentor capacity. not much else to say at this point. everyone is confident a decent script can be written and i guess we'll take it from there.
The same acting talent as Apatow's other movies? So that would mean Paul Rudd, Jason Siegel and the by-now ubiquitous Seth Rogen for the main roles, I guess... but who will be the new Annie Potts?
Harold Ramis confirms 'Ghostbusters III'
[Chicago Tribune]