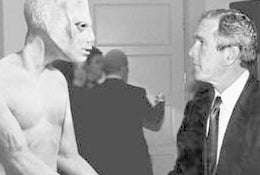 One man is responsible for The 4400 and Dark Angel ! The other is responsible for bringing George Michael to the small screen as Johnny Lee Miller's imaginary friend! And together, they're going to bring aliens to the White House! At least, that's just one of the plot threads in the new project by Eli Stone creator Greg Berlanti and Star Trek and The 4400 alum Rene Echevarria, currently being developed for ABC.The new show - currently titled The Return - will be have both Echevarria and Berlanti as executive producers, should it make it to air. Little is known about the project, other than Variety's short take on the premise:
Project revolves around the impact on the world — including the White House — when aliens land.
Are they friendly? Do they have a secret agenda,
V
-style? And why, exactly, is it a "return"? Hopefully at least some of these questions will be answered soon. All we know is that we're looking forward to some more
4400
-style drama.
Greg Berlanti plots 'Return' for ABC
[Variety]