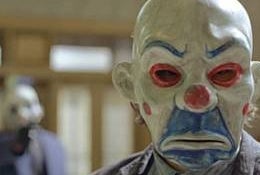 Click to view Now that The Dark Knight has broken another box office record and become the highest-grossing first run Imax movie ever, theater-owners are wondering what to do for a follow-up. They've come up with what they think is a pretty good suggestion: More Dark Knight .Talking to the Hollywood Reporter, Imax Filmed Entertainment chief Greg Foster explained that The Dark Knight has finally overtaken The Polar Express in terms of box office - a movie that is re-released to Imax screens every holiday season. Would Foster like to see a similar thing happening for Batman's latest adventure?
"That sounds like a really great idea," the Imax exec said. "Ultimately, it's a decision that Warner Bros. has to make. We'd certainly support that." Warners distribution president Dan Fellman said there was "a real possibility" of such a re-release. Imax's imminent conversion of many of its venues to digital distribution would make cost considerations of such a move more negligible, though Fellman stressed nothing regarding an eventual "Dark Knight" re-release has been decided.
It could be the new way to celebrate the holidays! Trim the tree, wrap the gifts, go and see a nihilistic movie about the sacrifices a superhero makes for his city. Who could resist?
'Dark Knight' new Imax king
[Hollywood Reporter]