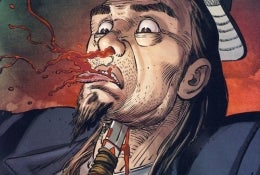 Click to view Is the movie version of Mark Millar's Kick-Ass in trouble already? Its biggest star, Nicolas Cage, has been talking about his reaction to seeing the comic for the first time - after agreeing to do the movie - and it's not necessarily a good one. What kind of teenage ultraviolent action movie are we going to be seeing in theaters next summer? It may depend on whether Cage or Millar can convince director Matthew Vaughan of their respective visions.Cage told MTV's Splash Page blog:
When I said 'yes' to this movie, it was to a script. Then I started seeing the comics which are pretty far out in terms of violence. But I think Matthew [Vaughan] and the script have a different style to it... [T]here will be some moments of action that will be violent, but there will be a sense of elegance to it. [He] doesn't want to get gratuitous with it. At least that's what Matthew has told me.
Far out in terms of violence? You mean like
this
?: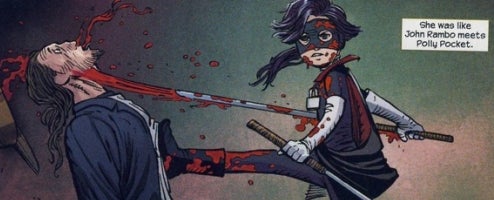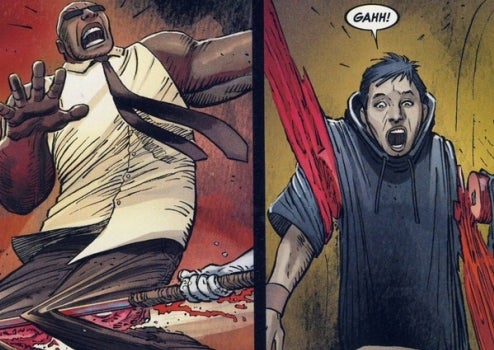 Yeah, you can definitely see where Cage might be concerned about the violence. But what's this about Vaughan toning down the violence and bringing a "sense of elegance"? That's not what
producer Millar told us last week
, back when he said that
Kick-Ass
would be "more outrageous" than "the most violent film this year." So, who's right? Will the movie end up toning down its violence in order to please its star, or will Cage swallow his pride to follow the producers' artistic vision? Will Cage end up walking away from the movie? The potential behind-the-scenes drama is, if nothing else, likely to drum up more interest in the movie before its release next year.
Nicolas Cage Reveals 'Kick-Ass' Film Adaptation Will Downplay Violence
[MTV Splash Page]