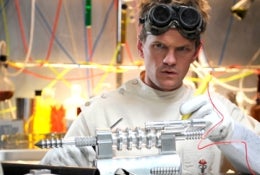 Aching for more Dr. Horrible ? Don't worry, it's on its way - but don't expect to see much more of the titular star any time soon. The next few installments are going to shift their focus towards such lesser lights as Moist, Fake Thomas Jefferson... and maybe even you, dear reader.Horrible co-creator Zack Whedon told MTV that he's already working on the next Dr. Horrible comic strip, to star the Doctor's less-evil best friend, Moist. After that, look for Fake Thomas Jefferson to take center-stage (written by Lost and Cloverfield writer Drew Goddard, who played the faux President in the musical) and then... well, the sky's the limit, according to Whedon:
All of the Evil League of Evil characters have elaborate and hilarious backstories. You could even do one about the groupies in an Archies comics style. Anyone who is seen in the web musical is a candidate for an eight-page comic in my book.
And if you're bummed because you didn't appear in the web musical, all hope is not lost. Just pay attention to
this page
for upcoming details about how you yourself can audition to join the Evil League of Evil; the three best audition tapes will appear on the
Sing-Along Blog
DVD, letting the entire world know just what you would do with your own Freeze Rays.
Dr. Horrible Sings Again, Gets Moist
[MTV Splash Page]