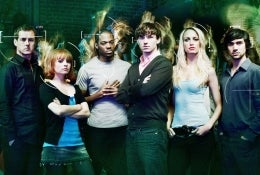 Trashy, futuristic Brit spy drama Spooks: Code 9 may just have finished its first season in the UK with a cliffhanger ending, but that doesn't necessarily mean that we're going to find out what happens next. According to the show's executive producer, we're still a couple of weeks away from knowing whether or not the fight against tomorrow's terrorism will continue. Minor spoilers await!Although everyone involved in the show, from the writers and crew through to the actors are raring to see where they can take the soapy dystopian drama next, the powers that be haven't signed on the dotted line just yet, according to the show's EP, Karen Wilson:
We are still waiting to hear from the BBC about a second series. I would hope we would know within the next couple of weeks... We always planned to leave it on a cliffhanger - it gives us more to play with if and when we come back... It's paying homage to the [original series] Spooks model.
If the show doesn't return, we may never find out whether yet another bomb will continue the decimation of Britain that started with the show's nuclear holocaust backstory. Personally, I'm going to pretend that it did, just out of bitterness.
'Spooks: Code 9' future undecided
[Digital Spy]