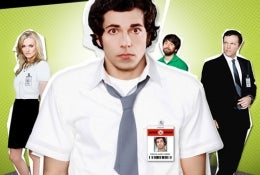 If you didn't find yourself falling for the (somewhat dubious, we admit) charms of NBC's Chuck last season, don't worry; you've got a second chance. Thanks to the writers' strike forcing the show off mid-season, everyone involved in the show is looking at this September's second season opener as a brand-new beginning. But will anyone be watching?Star Zachary Levi knows what the show is up against, in terms of the way it left viewers:
The last episode that was aired really wasn't a finale. It didn't tie up anything. So we're starting fresh in many ways... We're coming back with a clean start and a fresh slate.
Creator Josh Schwartz agrees:
[W]e've designed the season premiere almost like a pilot... Our attitude is, forget worrying about a sophomore slump. We've got to treat this as a network launch. We come out swinging. In terms of action, this is as big as a pilot.
But how many people will be watching the show's second pilot? Depending on who you ask, NBC's Olympic coverage - which was carpeted with trailers for
Chuck
, as well as shows like
Knight Rider
and
Heroes
- was either
incredibly successful, raising people's awareness of NBC shows by 59%
or
a failure, producing only a "slight bounce in awareness" of the shows
. Will
Chuck
's relaunch bring in enough new viewers to keep it from facing a fate worse than
Bionic Woman
?
NBC's Chuck intends to come out swinging
[USA Today]