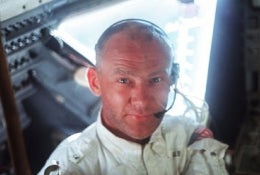 Click to view Buzz Aldrin may not be the biggest fan of science fiction , but that doesn't mean that he doesn't know a good marketing opportunity when he sees it. But is it purely greed that's taken him to the point of selling off genuine NASA memorabilia at this weekend's Fan Expo in Canada?Aldrin's appearance at the convention may be entirely mercenary, but for a kind of sad reason, according to a report in the Canadian Press:
Speaking over the line from his office, the Apollo 11 moon walker warned that he couldn't engage in a long conversation because he was busy with various projects: trying to get the U.S. presidential candidates to consider future space strategies, working with his non-profit organization and looking ahead to next year's 40th anniversary of the 1969 lunar landing. And that's just a snapshot of his agenda. With such a flurry of activity there also comes a need for funding, hence Aldrin's appearance at Fan Expo where he plans to market memorabilia in order to augment "a retirement pay that was not very high," he said. "We're not in really a self-sustaining economic posture to be doing all the things that I'm trying to do without augmenting my income in ways that are available," said Aldrin.
Look, I'd be the first to admit that Buzz can be somewhat disagreeable and out there, but the idea that someone who went to the moon is actually getting a shitty pension is just kind of depressing, people. Of course, without an actual figure, we have no idea if it's a genuinely low retirement wage, or whether he's just complaining for the sake of it. After all, a man who's been to the moon may just have a different definition of "high" to everyone else...
Buzz Aldrin markets memorabilia at Fan Expo to boost retirement income
[The Canadian Press]