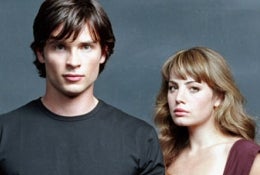 Expect to see some familiar concepts making their first appearance in the upcoming eight season of Smallville , according to the new producers in charge. While the show may have lost both Lana Lang and Lex Luthor at the end of last season, that doesn't mean that things won't start to look more familiarly Super for fans this year.Not only are we likely to see Clark flying at some point in the upcoming season (The show's unofficial mantra "No flights, no tights" seems to have been changed this year, according to showrunner Brian Peterson: "We have a lot of conversations [about that]... The only thing that we are saying is that we can absolutely confirm that there is no tights, so that's pretty much all we can say on that"), but fans should also expect to see much more Daily Planet, more Lois and Clark interaction, and most excitingly, the creation of a secret identity:
What the producers can say is that this season will focus on the theme of double identity and the situations it forces Clark to be in. "That's actually his main thrust this season," [Producer Kelly] Soulder said. "Saving people in Smallville was one thing — when he had to run to the factory to save Chloe the roads weren't very crowded, the streets weren't very crowded. Being alive in Metropolis as Superman is a very different experience and you will find very quickly in this season he discovers it's not so easy when you're running through crowded streets or you're having to run into a crowded crisis situation." To which Peterson was quick to add, "Or you're accountable to Lois back at the Daily Planet." "So that's what forces him to start really exploring the two worlds," Soulder said.
If this means that we're going to see Tom Welling start to wear glasses and channel Christopher Reeve, then it may be worth tuning into the new season when it starts on the CW on September 18th after all...
Reinventing Smallville with Soulder & Peterson
[Comic Book Resources]