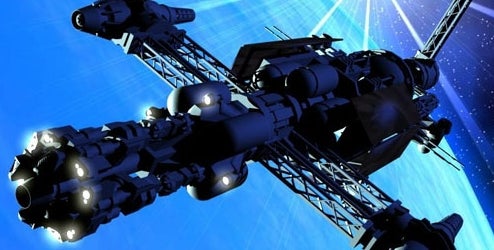 With everyone still wondering just what the frak is going on with the last episodes of Battlestar Galactica , maybe we've lost focus on Virtuality , the new project from Ronald D. Moore scheduled to appear on Fox sometime in 2009. Luckily, SciFi Wire has gotten past a lot of the secrecy surrounding the show to introduce the crew, including a secret member.The crew is twelve strong... Or, twelve official members, anyway. They are:
Frank Pike (Coster-Waldau). The mission commander. Ex-military. Coster-Waldau reported that Pike has re-created a Civil War battle in his virt module and reruns it often, trying to solve a particular historical puzzle. —Roger Fallon (James D'Arcy). Psychiatrist. A gifted therapist and producer of an onboard reality show in which the crew members are obligated to take part, the price of their interstellar voyage. Though those two jobs might sound incompatible, Taylor said that he combines his tasks with aplomb. —Rika Godard (Sienna Guillory). Botanist, in charge of the hydroponics. Fallon's wife, though Guillory said that her character is having an affair with someone on the ship. —Manny Rodriguez (Jose Pablo Cantillo). Mathematician and superstring theorist. —Valentin Orlovsky (Gene Farber). Geologist and Rodriguez's partner. —Kenji Yamamoto (Nelson Lee). Exobiologist. Married to Alice Thibadeau. Writer/producer Taylor described them as a young couple, very much in love and having something of a second honeymoon on the ship. —Alice Thibadeau (Joy Bryant). Exobiologist, but with a different specialty from her husband. —Jimmy Johnson (Ritchie Coster). Inventor of the matter/antimatter weapons technology used to propel the ship. In a wheelchair because of an accident in his past. Coster described his character as "an agent of chaos." He's vital to the mission's success, which is apparently the only reason anyone puts up with him. —Julius "Jules" Braun (Erik Jensen). Longtime NASA scientist, designer of the ship and navigator. —Adin Meyer (Omar Metwally). Ship's doctor. Born in the West Bank of Israeli and Palestinian parentage. —Billie Kashmiri (Kerry Bishe). Computer expert. Interfaces with the ship's artificial intelligence, which is named Gene. Or perhaps Jean. Taylor declined to say whether the personality is male or female. —Sue Parsons (Clea DuVall). Ship's pilot. An ex-fighter pilot and very much into physical activity. Her virt modules are mainly about extreme sports.
In addition, there's also a mysterious character known only as "the green-eyed man," played by Jimmi Simpson; exactly who he is is still a mystery, as SciFi Wire admits that "nobody wanted to admit even that to us, and they didn't let us anywhere near Simpson while he tried on costumes and was briefed on a fight sequence by a pair of stunt performers."
Virtuality Characters Unveiled
[SciFi Wire]