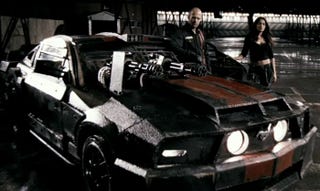 Click to viewDeath Race is full of awesome exploding car-fu, but it's in the service of a crash course (sorry) in dystopia for the Internet age. The race in question is a prison game which nobody can ever really win, webcast to millions of viewers who might as well be in prison. In fact, Death Race is a good object lesson in why subtlety is overrated. Even the fact that Jason Statham only has one facial expression helps keep the movie's bleak message alive. Click through for spoilers and details and stuff.
For those of you who are hoping for a smiple verdict on the movie, here it is: the car stunts are breathtaking, if occasionally confusing. Stuff blows up real good. Joan Allen is magnificent as the prison warden. Jason Statham is Jason Statham. The movie holds up pretty well, until it fizzles completely in the last 15-20 minutes. (Seriously, I can't remember when I've seen a movie take such a steep nose-dive in its last reel.)
It's true, as director Paul W.S. Anderson says, that the new Death Race isn't as overtly satirical as the 1970s original, Death Race 2000. This movie is actually too sledge-hammery to be a satire. It starts with a voice-over (and captions) telling us that it's 2012 and everything has gone ass-up. The U.S. economy is rotten, there are no jobs, and everyone's in prison. Prisons, meanwhile, have all been outsourced to private corporations, which try to make a profit through entertainment. First, it's just cage matches and stuff, but eventually it gets more elaborate, leading to the Death Race, which is a huge road rally of mutilation inside the prison grounds, broadcast on the Internet.
Then we see Jason Statham on his last day, working at a steel mill, which is closing down. The mill's owners cheat Statham and his fellow workers out of most of their final pay, and then call the riot cops on them before they can even grumble. "Self-fulfilling prophecy," Statham announces to the camera. The workers try to invoke working-class solidarity with the cops, but to no avail, and the violence begins, with the cops firing rubber bullets and beating the crap out of the downtrodden workers. From there, the movie zips forwards through the murder of Statham's sexy wife in his inexplicably nice house, and in a jiffy he's in prison for his wife's murder. His only hope of release: to take part in the Death Race and win.
We quickly realize the evil prison warden (Joan Allen) had Statham's wife killed and framed Statham, so he would take part in the race. And not too long after that, we're shown that Allen's character never intends to let anyone win enough races to get out of prison. The game is (say it with me) rigged. There are little video-gamey "power-up" symbols that you're supposed to drive over to get weapons or defenses, but they only work when Allen wants them to. Just like the steel-mill's owners, Allen has everything fixed in her favor. (I mentioned this movie was subtle, right?)
Whatever Anderson paid Allen to be in this movie, he should double it. She's easily the best thing about the film, enjoying the hell out of playing a one-dimensional monster. (As I mentioned yesterday, there's a shortage of decent villains, and Allen's character is up there, until the aforementioned terrible ending.) She's purely interested in profit, and driving Internet traffic to the webcast of the Death Race, and she'll do anything to get more online subscribers. The only time she's freaked out or flustered is when she thinks she won't get enough hits. The rest of the time, she's supremely in control - like in one scene where she's talking to Statham with one finger on the trigger of a gun under her desk, aimed at his crotch. It's Allen who really sells the movie's crazy premise, as a smiling yuppie surrounded by working-class men who fear and/or worship her.