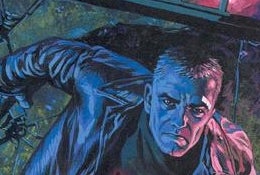 Will Tom Cruise discover that the only way he can be truly hurt is emotionally? Possibly, if rumors that he'll be starring in Sam Raimi's adaptation of the comic Sleeper are to be believed. More about the story of alien artifacts, moral conundrums and Raimi and Cruise's involvement in both, under the jump.Sleeper , created by Ed Brubaker - the man who killed Captain America and replaced him with a cyborg assassin - and Marvel Zombies ' Sean Philips in 2003, centers around Holden Carver, a secret agent whose run-in with an alien artifact leaves him with superpowers including invulnerability... which, according to the government, makes him a perfect candidate to go undercover in a secret society of supervillains because, well, what could they really do to him if he got caught? The movie version - rumored for years, despite complicated rights issues - is being helped by Cruise's "loose attachment" to the project, according to the Hollywood Reporter:
Together with Sam Raimi, he is setting up "Sleeper" at Warner Bros. Cruise is loosely attached to star in the adaptation of the DC Comics/Wildstorm comic that Raimi would produce with his Star Road Entertainment partner Josh Donen... Raimi and Donen have long been fans of the book, and the project could have found homes at Sony and Regency if [the rights] issues hadn't been so complex. "Sleeper" is a spin-off book from Wildstorm flagship title "WildC.A.T.s" and features characters from another spin-off book, "Gen 13." Both books had been set up at different places around town and some of those deals were made before DC bought the imprint in 1999.
No writer is attached to the project yet.
Tom Cruise wakes up 'Sleeper'
[Hollywood Reporter]