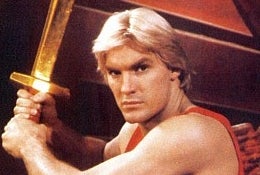 It may have been released 28 years (and at least one television revival) ago, but for everyone of a certain age, 1980s' Flash Gordon remains the definitive tale of an All-American sports hero being kidnapped into space, kicking Mongo ass and - most importantly - being turned on by an alien princess while telepathically communicating with his human girlfriend. Thankfully, journalist George Khoury is one of those people, and he's created a moving look back at the making of the movie.Khoury talked to the true stars of the movie - amongst them, Topol, Brian Blessed and Queen's Brian May, who explained how the classic theme music was created:
So for the title track I wanted to portray the cartoon-like quality that I saw in it… but the 'soaring guitars' were just the normal vocabulary of my dreams!
Goddammit, I really want to dream like Brian May now. Blessed is just as helpful in the amazing quote department:
And it [the set] was full of dwarfs and all kinds of people. I love dwarfs. They're the happiest people in the world. And I loved to chase them around the set and stuff like that. So the whole thing was colossal fun.
Even Topol offers up this helpful recollection:
Yeah, it was a fun movie to do it. And the main thing, I quit smoking on that film. [laughs]
Despite the somewhat scattered nostalgia of those involved, the article is actually remarkably fun and full of information about the movie and just why we never saw a
Flash 2
. It's still not too late, of course...
Hail Flash Gordon!
[Comic Book Resources]