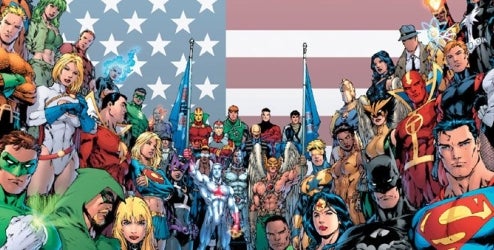 Click to view Hope everyone out there liked The Dark Knight , because if Warner Bros have their way, there will be plenty more where that came from - Four such movies a year, in fact. Variety is reporting that, while the studio may be light on summer blockbusters next year, they're looking to DC Comics in particular to remedy that in future.Warners' slow projections for 2009 have already upset fans of the Harry Potter books by pushing the release of the latest movie back from November of this year to next summer, but that's just the beginning of the studio's worries, according to the trade paper. And, as has previously been reported, Warners is looking in the direction of their comic book division for a solution:
Warner Bros. is looking for DC Comics to produce more movies. The Time Warner comic-book arm is sitting on a stable of well-known superhero properties like Batman, Superman, Wonder Woman and the Justice League, but has been slow to develop the bigscreen adventures. Getting the movies made would involve many of Warner Bros.' other divisions — including TV, homevid, consumer products, online and vidgames — that would create tie-in projects for release around the films. "They need a lot of lead time and it all needs to be choreographed," [WB President of Production, Jeff] Robinov says.
Given the success of Marvel's
Iron Man
and
Incredible Hulk
in addition to Warner's own
Dark Knight
, this shouldn't come as a big surprise; after all, we already know about
the planned Green Lantern movie
as well as the franchise-building
Green Arrow: Escape From Super Max
. But with
rumors persisting that the Justice League movie has been sacrificed to appease Chris Nolan
and
God knows what happening to the Superman movies
, it looks like it'll be later than 2010 before Warners get their own superhero stable in shape, especially when they make statements like
"We're going to make a Justice League movie, whether it's now or 10 years from now. But we're not going to do it and Warners is not going to do it until we know it's right."
. Of course, until then,
there's always the cartoons
...
WB's hero hunt heats up
[Variety]