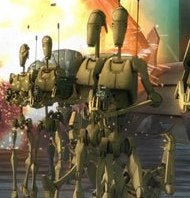 Too busy searching Starship Troopers: Marauders frame-by-frame for the Captain Rico money shot all week? Don't worry, we've compiled a list of the best stories of the week, just for you.

Ten Reasons Why the Clone Wars TV Series is Going to Rule.
Of course you're nervous about the new Star Wars: Clone Wars movie, but have faith little padawan: it will exceed your expectations.
The Best And Worst Fake American Accents From Scifi's Army Of Brits.
We rank all the fake America accents in scifi land from top to bottom. Yep, Bionic Woman is included.