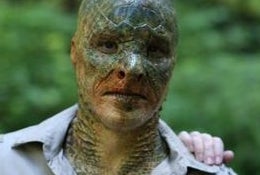 Although you may not have been able to tell just by watching, this week's episode of SciFi Channel's Eureka was an important moment for the show's creators. Was it the sonic shower scene, the introduction of an artificial biodomed reality under the town or deepening the meta-commentary on the show's sponsorship deal with Degree For Men ? No; somewhat reassuringly, it was all about the snake-man.On the show's behind-the-scenes Tumblr page, an explanation was forthcoming:
[It's 2005 and] "Eureka" Co-Creators Jaime Paglia and Andrew Cosby have just sold "Eureka" as a series and are writing the pilot script. Their first version, which everyone loves, centers around a funny monster-of-the-week story about Bigfoot. Then the script goes up the food chain and marching orders come back from the Network saying, "No monster-of-the-week" stories, especially not for the pilot." Their reasoning was that viewers would tune in and think that "Eureka" was an "X-Files" rip-off, and that each week audiences would be treated to yet-another creepy creation of some sort. So Jaime and Andy rewrote the pilot script again. From scratch. The story they came up with the second time around is the pilot you know and love... But the unintended consequences of that scenario have been and continue to be a singular mantra: "No monster stories on Eureka!" That is, until now.
Firstly, either whoever made thought that
Eureka
was going to be another
X-Files
was insane or the original version of the pilot was massively different from what was finally made (Now, if they'd said it was going to seem like a
Smallville
rip-off, I could see that...). But more importantly, the lack of regular monsters was a great decision, and one that I hope isn't going to change now that we've met Bob... I'd rather see more Frances Fisher scheming evilly than a generic beastie on the loose every week. Maybe we should all start complaining that a monster every three seasons is too often.
What About Bob, Anyway?
[Eureka Unscripted]