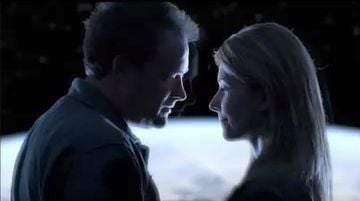 Is Jewel Staite's character, Dr. Jennifer Keller, ever going to find love on Stargate Atlantis ? All signs point to yes. Producer Joseph Mallozzi confirmed on his blog that there will be a deeper exploration of the many loves of Keller. But who will be romancing Jewel Staite this year? Spoilers ahead, plus pictures from the upcoming "Whispers" episode. One clue may come from Mallozzi's statement that "Ronon will be pursuing romance as well this season." It doesn't 100% confirm the awesome throw down I've imagined over Keller between Ronon and Dr. Rodney McKay, but it's a start. Who could forget the Keller/McKay kiss from "Last Man"? Why not recreate it, only with an angry jealous Ronon ready to fight brainy McKay for the attention of Keller? Mallozzi addressed McKay's newfound relationship-mindedness:
We've never actually seen him develop a mature relationship. In the case of Carter, it was a crush. In the case of Katie Brown, they were almost like dating teenagers. In the case of Keller in "Last Man", we were only offered the merest of glimpses into the workings of their relationship.
So here's to the Atlantian love triangle to come, fingers crossed for a showdown (my money is on McKay — he seems scrappy when motivated correctly). In other
Atlantis
news, you all know we won't be getting our weekly dose of
Atlantis
this week, according to Mallozzi the cast is currently off on a location shoot. That big location episode will be directed by
Atlantis
writer and producer, Martin Gero. This will be Gero's first time in the
Atlantis'
director's chair, but I thought he was quite funny at Comic-Con and I can't wait to see what happens at his location shoot. (Psst, Martin, please send pics!) But the good news is, the show
will air all through the fall season
. And here are the promised "Whisper" pics an episode that Malozzi described as "spooky."
[
Joseph Mallozzi
]