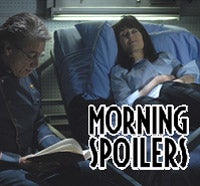 In this morning's spoiler roundup, find out what Arnold Schwarzenegger thought of the footage he's seen from Terminator 4 , and what George Lucas says will happen in the new live-action Star Wars TV show. There are also some new clues about the Tron sequel with the unpronounceable name, and a new featurette on Repo! The Genetic Opera . We also have a brand new clip from tonight's Eureka episode, a video that hints at some new superpowers on Heroes , and some new hints of romantic complications for both Sarah Connor and Chuck . Also, Josh Holloway has a very important announcement about Lost season five. It's your daily spoiler forecast. Terminator Salvation: California governor Arnold Schwarzenegger saw a bunch of footage from Terminator 4 , but it left him puzzled, mostly because he couldn't tell who the Terminator was in the film. Said Arnie:
I still don't know how it will play out with this one... They showed me some footage, but I don't have a feel for the movie. I didn't see enough. I wasn't sure who the Terminator was. I don't know if there is one or if he's the star or the hero. These are the things that determine the success and how the strong the movie will be.
[
L.A. Times
]
Tr2n:
In the
Tron
sequel, it appears from the trailer that the "crack" in the game-grid wall remains after all these years, and other players are using it. A new Sark program would know where the "crack" is, and that's why he's able to head off his opponent so easily. Also, the new "deadly disks" appear to be slimmer than the original versions, maybe because processing capacity has improved, so you can get more disk for your buck in a smaller space. [
UGO
]
Repo! The Genetic Opera:
Here's a new behind the scenes featurette for
Repo! The Genetic Opera
, focusing on the song "Mark It Up," which introduces the Largo children. If you're one of the people who's already super excited for this musical about Giles from Buffy going around harvesting people's foreclosed organs, then you'll probably be excited to see this. [
ShockTillYouDrop
]
Star Wars:
While we're all gearing up to enjoy the
Clone Wars
movie and TV series (or not, maybe), George Lucas and his team are still working hard on the live action
Star Wars
TV show that takes place after
Revenge Of The Sith
. Lucas reiterated that the live-action series takes place on "the lower levels of life" and we won't see any Skywalkers in it. "They hear about the fact it is no longer a republic and now it's an empire, but they are from a world where none of that really means too much to them." [
Sydney Herald Sun
]
Eureka:
The Sci Fi Channel sent us a preview clip from tonight's episode of weird-science-town show
Eureka
, featuring a real Creature from the Black Lagoon.
Terminator: The Sarah Connor Chronicles:
Sarah Connor Chronicles
' Lena Headey says there won't be any romance between her character and Brian Austin Green's Derek Reese, but she hopes to have some romance with FBI agent Ellison. [
TV Guide
]
Lost:
Rumors for
Lost
season five. The premier episode, for the first time, takes place in
three
separate timelines. And apparently Sawyer spends the first few episodes entirely shirtless. [
Doc Arzt
]
Heroes:
Supposedly this is a video of a visit to Dr. Mohinder Suresh's lab, and it culminates with a shot of Maya all webbed up. Is this confirmation that Mohinder gets spider powers? Or just a weird viral thing? [
SuperHiro
] And here are a few more promo stills from the new season opener. [
Hellhound's Lair
]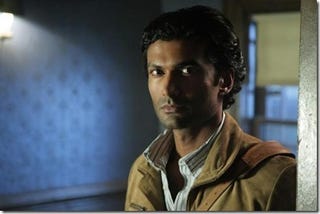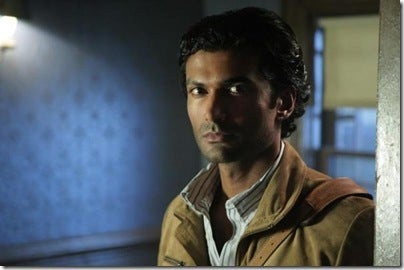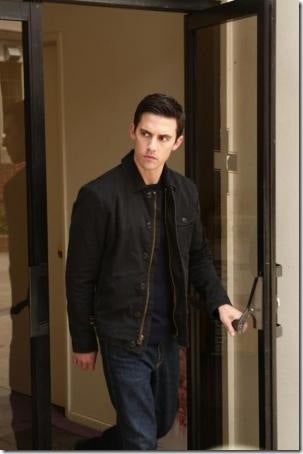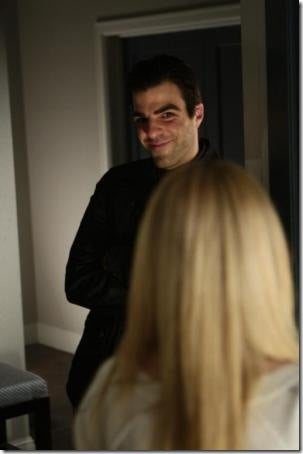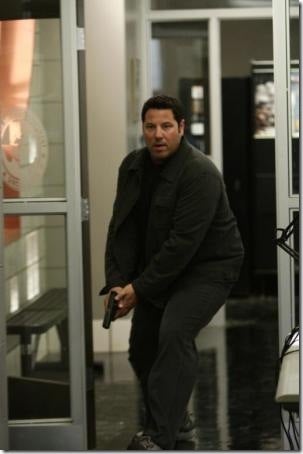 Chuck: In the eighth episode of Chuck season two, there's a security problem at the Buy More store, so Big Mike leaves Morgan, Jeff and Lester in charge at night. But then Morgan comes up with dinner plans, so they all leave the store unattended. Big Mike ends up getting a call from the security company. Meanwhile, Chuck, Sarah and Casey are facing off with Fulcrum agents at a carnival. Chuck's ex Jill warns him about "yet another threat," and he's not sure who to trust, since he still has feelings for Jill. And apparently the line "Unleash the Casey" is spoken at some point. [Chuck TV]