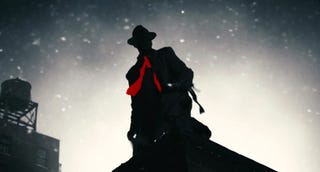 Click to viewJust as Americans are going to the polls in November, a mass media campaign will be ramping up that depicts cities as both dangerous and wracked with torment. "My City Screams!" It could be a slogan for The Dark Knight. Or any of a host of other movies, TV shows or books. But it's actually the tagline for The Spirit, the new comic-book movie by noir master Frank Miller. We love to imagine cities as hazardous, smelly alien worlds, even as real-life U.S. cities are becoming safer and safer. Why is genre entertainment's portrayal of cities trapped in an era of tenements?
Gotham City cannot be saved - or gentrified
The biggest movie of the year, The Dark Knight, is about the impossibility of saving cities. Heath Ledger's Joker aims to prove that all of the upright well-behaved citizens of Gotham are maniacs waiting to happen. As he says at one point, they'll eat each other the moment the chips are down. But really, they're only a ready-made mob because they're in such close quarters. When they're not jammed into trains, hospitals, crumbling buildings and public squares, they're crammed into barges trying to evacuate. So much for sustainable development.
Before The Dark Knight came out, Warner Bros. issued a direct-to-DVD animated prequel called Gotham Knight, which included one story about a man who wants to clean up the slummiest slum in Gotham, the East End, and he starts by putting in a golf course. You can see the crumbling tenements in the background as Bruce and the other rich dudes play golf. But we learn that this would-be "urban renewer" has a shady reputation, and he's involved in organized crime.
Batman is almost always ambivalent about gentrification in the comics. Gotham City is always getting destroyed and reduced to Dresden-esque rubble, and Bruce Wayne rebuilds it again and again, just as miserable as before. (Most notably in 2000's massive "No Man's Land" storyline.) In "Watchtower," a future-Gotham story by regular Bat-writer Chuck Dixon (and drawn by Judge Dredd artist Mike McMahon) a corporation turns a whole section of Gotham into its own super-safe gated community, complete with private cops in super-armor, and Batman ends up deciding the whole thing is corrupt and bringing it down.
In the miniseries "Run Riddler Run" by Gerard Jones and Mark Badger, someone wants to tear down the slums and put up fancy condos. Bruce Wayne almost invests in this scheme, because he's in favor of anything that makes Gotham safer. But as Batman he sympathizes with the downtrodden. He's torn, but never actually has to make a choice, because the people behind the real estate deal turn out to be bad guys and he has to break them into little pieces, dooming their real estate venture in the process. I asked Jones why Batman would be anti-gentrification, and he says:
Mark Badger and I always saw Batman as not just an opponent of street crime but also as sympathetic to the little people who are exploited by the big people. Like poor people being displaced by rich people. I never liked the one-note obsessive take on Batman's personality, wanting to see him as a real human being who had a fierce preoccupation with street crime but could consider other issues too...
Most writers at the time were interested in nuancing Batman terms of personal psychology, but I was getting really bored with that. His mission to fight criminals was a political and communal act too - So who is this Bruce/Batman as a social being?
In Peter Milligan's story "Dark Knight, Dark City," we actually learn that Gotham itself is built on the site of a demonic ritual by apostate Puritans. As a result, the city's very foundations are cursed, and no matter what you do, Gotham will always be horrendous. The city is a character in many Batman stories, but it's not a friendly one - it's more like a member of Batman's rogue's gallery.
Living in a world Frank Miller made.
You can't really talk about the vision of Gotham City as a brutal, cursed monster without paying tribute to Frank Miller's role in reshaping Batman's surroundings in Year One and The Dark Knight Returns, much as he made Daredevil's Hell's Kitchen slum much more hellish. Those superhero works were training wheels compared to Sin City, where everybody's corrupt and violence really is the answer to every situation (except for those rare occasions where the answer is sex instead.) There aren't good guys and bad guys, there are just assholes and monsters. Miller has justly earned a reputation as the master of ultraviolent comic-booky noir.
Even though The Spirit is based on a Will Eisner comic that doesn't feature an especially scary cityscape, it looks as though Miller's film will be just as pulpy and noir as Sin City, with a bit more of a science fiction twist, judging from the first trailer and other early publicity. As the first teaser says, the city screams, and she's female. She's the Spirit's mother and his lover, but that incestuous double-bind probably is not the real reason she's screaming. I'm guessing it has more to do with the Octopus, Samuel L. Jackson's fur coat-wearing supervillain, and various other scumbags.