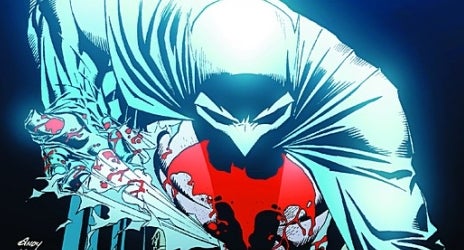 A huge-name comic writer taking over a comic icon for a two-part storyline that wraps up a character's history and readies said character for a high-level relaunch - Neil Gaiman's Whatever Happened To The Caped Crusader? , announced last weekend and starting in January next year? No, Alan Moore's classic Superman story, Whatever Happened To The Man Of Tomorrow . But how many parallels do the two similar-sounding stories have, and what does this mean for the future of the Dark Knight?Moore's 1986 Superman story, which ran through one issue each of Superman and Action Comics (in the same way that Gaiman's will run across an issue of Batman and Detective Comics ), is notable not only for being one of the few Superman stories written by the Watchmen and From Hell author, but also for summing up the entire history of Clark Kent's alter ego before "killing" him and allowing the character to be rebooted and restarted from scratch later that year by John Byrne. Gaiman's Batman story is due at the start of next year, following on not only from the current Batman RIP storyline, but also something that Grant Morrison calls "The Last Batman Story." We've already told you about rumors that Dick Grayson is set to take over the name and costume in the new year, and Dan Didio slipped up twice at Comic-Con, mentioning something called "Battle for the Cowl", but are we really about to see the end of Bruce Wayne as the Caped Crusader? Didio talked about the similarities between Gaiman's new story and Moore's career-capper for Superman:
There are a number of parallels [between the two stories]. There's a very particular reason why we call it [Whatever Happened To...], and that information will be coming out later on, but with this, we wanted to get someone of that particular stature to tell this story, a story that will really define the years of Batman's life.
Our take on the whole thing? Anyone who wants to relive the days of Superman's death at the hands of Doomsday in the early '90s may want to start picking up the monthly Batman books, because Bruce Wayne is probably not going to be Batman this time next year. Of course, it's unlikely to stick; not only is head Batman writer Grant Morrison the man who brought the Flash back more than twenty years after his death in this summer's
Final Crisis
, but there's almost definitely no way that Warners wouldn't want to have Bruce Wayne where he belongs in the comics if and when they ever do a sequel to
The Dark Knight
. Everyone knows that corporate synergy is stronger than death or retirement, after all.
More on Gaiman-Batman with Dan DiDio
[Newsarama]