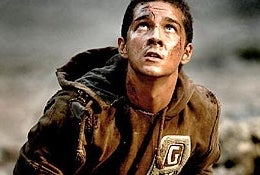 The long line of heroes with damaged hands will grow by one with the release of Transformers: Revenge Of The Fallen , according to new rumors from the set of the heavy metal sequel. Proving that art mirrors real life mirrors the reality of shooting schedules, Shia LeBeouf's character Sam Whitwicky is set to gain his very own hand injury in order to make sure that LeBeouf will be able to shoot his remaining scenes.The rumors came about as the result of director Michael Bay's comments on Access Hollywood :
Bay told "Access Hollywood" in an interview airing Friday that LaBeouf's left hand was significantly enough mangled that the script may need to be adjusted. "His two fingers are pretty smashed, but we're figuring out a way to shoot around it, kind of write it into the story," Bay told the syndicated entertainment program. A spokesman for Paramount Pictures, which is owned by Viacom Inc., said Friday that no final decisions have been made.
Personally, I hope that there's a really awkward scene where we see Bumblebee slam his door shut on Sam's hand after a surprisingly lame argument, followed by Bay appearing onscreen to address the audience by shrugging his shoulders and saying, "Hey, it's the best we could do on such short notice."
`Transformers' may be adapted for LaBeouf's injury
[Mail.com]