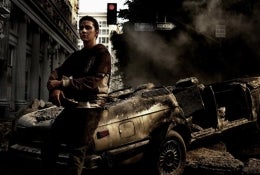 The filming schedule of the second Transformers movie has been thrown into some confusion following an accident this weekend landed star Shia LeBeouf in hospital and requiring "extensive surgery," according to reports. An evil Decepticon plan or something much more embarrassing? Find out under the jump.LeBeouf, who was arresting on suspicion of drunk-driving following Sunday's accident, will miss "at least one month" of filming for Michael Bay's Transformers: Revenge of the Fallen following his surgery. His vehicle hit a truck and was flipped across the road in the early hours of the morning, before being rushed to hospital at 2:30am with injuries to his head, hand and left knee. Police have said that LeBeouf was not at fault for the accident , explaining that the other driver ran a red light. The actor's absence will definitely affect the making of the movie, but not necessarily derail it entirely; Shia's plot thread is only one of many in the movie, and co-star Tyrese Gibson seemed entirely unconcerned about the accident when talking to MTV :
A month? He won't be in the hospital for a month. He just hurt his hand.
The schedule for the movie had an in-built buffer for the potential actors' strike, and so this isn't disasterous... yet. And who knows? Maybe surgeons found some way to insert some acting talent while they were operating.
LaBeouf to miss 'Transformers' filming
[Digital Spy]