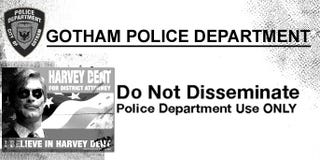 If you're making a new piece of pop culture and you expect it to reach a mass audience, or even just a subcultural audience, you'd better have an ARG. What's that, you say? ARG stands for "alternate reality game," and it describes a wide range of interactive puzzles that generally involve getting you to visit various websites, call phone numbers, and go places in major cities in order to get free shit related to a movie, TV show and even occasionally a book. Why are popular titles like Dark Knight and Lost using ARGs? It's more than just advertising: It's a way to build an instant fan base without working at it for years like Star Trek did. But so far, ARGs have few of the benefits of a fandom, such as a friendly community of like-minded people; and they have all of the bad parts of fannish behavior like pointless obsessiveness and fetishization of dumb swag.
Even if you've never participated in an ARG, you've probably seen stuff related to them without realizing it. The first movie tie-in ARG was probably for A.I., which created thousands of websites (most archived here) and phone numbers related to the game, probably the one that caught most people's attention was for the videogame Halo, whose ARG tie-in website ilovebees.com, told the tale of several characters fighting a 26th century alien invasion who desperately needed help from the past. Participants would watch the ilovebees website for GPS coordinates of payphones — at a designated time, the ARG would call the payphone, usually dispensing more information about the storyline via a recording. But a few lucky players also got to talk to an actor, and their conversations were incorporated into the game too. In 2004, ilovebees was the biggest ARG anyone had ever heard of, and it was a smash hit.
More recently, Dark Knight ran a several-month-long ARG, mostly off of whysoserious.com, which had fans doing everything from picking up cakes with cell phones hidden inside them to guessing the names of corrupt cops on the Gotham City Police force. People who figured out the puzzles first were rewarded with Batman swag and, later, tickets to preview screenings. Lost is running an ARG at Comic-Con this week where the fictional Dharma corporation tries to recruit new employees, and the Sarah Connor Chronicles had a tie-in ARG that was quite artful in which employees of the Enitech Corporation discover a camera that takes pictures of the future and predicts the rise of the machines.