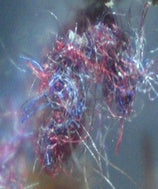 Too busy singing along to Dr. Horrible's "Freeze Ray" jingle all week? Don't worry - we've created a collection of the week's best stories for your pleasure.

A New Explanation for Morgellons, the Disease that Makes Wires Grow Out of Your Skin

If you've been growing blue and red wires out of sores on your skin like hundreds of Morgellons disease sufferers have (pictured), then you may actually have a nano-fiber chemtrail infection. Or so says the "chemtrail activist" community.

The Science Fiction Stories that Inspire and Hinder Real Science

Everything from satellites and space travel to synthetic biology and robots existed in fiction before they were realized in a lab - and most science fiction fans assume that situation is somehow beneficial for scientists. We've got a big list of stories that hinder, as well as inspire, scientific innovation.