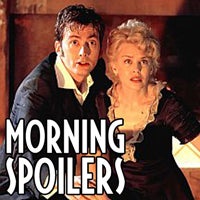 We managed to score a ton of script pages from the upcoming season of nerd-spy show Chuck, and we're summarizing them in depth, all in the name of spoiler pride. We also have new spoilers about the ending of The Dark Knight, and a second trailer for Viking/alien throwdown movie Outlander. And there are new hints about Star Trek, Transformers 2 and Watchmen. We found out more about what to expect from Heroes, Kyle XY, The Middleman, Sarah Connor Chronicles and the American Life On Mars. Plus our craziest Doctor Who rumors yet. Stand up (or rather, sit down) for spoiler pride!
Star Trek:
Star Trek director J.J. Abrams was willing to reveal a few scraps of info about his film. The sequences featuring baby Spock and kid Kirk are not "flashbacks." And Leonard Nimoy is a major presence in the film. [Coming Soon]
Outlander:
Are you excited about Outlander, the Vikings vs. alien monster movie, yet? How about if we show you a second trailer, featuring a voice-over narration from Sophia (Doctor Who) Myles? How now?


Watchmen:
As we've reported before, the movie of Alan Moore's celebrated Watchmen graphic novel remains the same as the original, squid and all. [MTV Movies]
Transformers 2:
In Transformers: Revenge Of The Fallen, as we mentioned before, Megan Fox's character Mikaela is left behind in L.A. when Sam Witwicky goes off to college. But the two do finally reunite. And there are some hair-raising scenes where they're zooming along in Bumblebee, and he's going 120 miles per hour without anyone driving him, and with no seatbelts. [Sci Fi Wire]
The Dark Knight:
World's most minor spoiler: good cop Jim Gordon has a daughter who looks about eight or nine years old in the new Batman movie, and she has a creepy encounter with a supervillain. Could she be Barbara Gordon, fated to become Batgirl? Nobody's saying, probably because that's an issue for the ninth or tenth movie in the series. [MTV Movies]
Also, here are even more message-board spoilers. The Joker pretends to kill Rachel in an explosion, but instead he ties her up and burns her to death. (It's mostly off-camera.) The Joker kills a ton of mobsters and cops in gruesome ways, and there's a broadcast of him torturing a fake Batman to death which is pretty horrifying. You think the Joker is going to die, but then he survives. But Harvey/Two-Face does die at the end. [Agony Booth]
Heroes:
Volume III of Heroes would have focused on the actual villains of the show if the writers' strike hadn't happened, but the retooled version this fall will be much more about the good guys facing the temptation of their powers. And romance. There'll be lots of romance. And weird murals. And a turtle. And when Adam/Kensei comes back from being buried in that coffin, he'll be pretty pissed at Hiro. [TV Guide]
Life On Mars:
Some changes to the American version of the British cult hit Life On Mars. The time-traveling cop will be in New York, not Los Angeles as in the earlier U.S. pilot. And whereas the earlier pilot made it very clear that Sam is actually in a coma, and not really transported back to the 1970s, the new version will be much murkier. It'll get more mysterious and confusing as to what's really going on with Sam, in each passing episode. (Although it will eventually make sense, promise the producers, who worked on Alias and are aware of the perils of too much confusion.) [TV Guide again]
Doctor Who:
Yes, it's true. There will be Doctor Who spoilers every day between now and Christmas, when the British time-travel programme actually returns. Today, some crazy rumors about the 2009 one-off specials. One of the Doctor's companions will be a "heroic cyberman" (named five of eight perhaps?). One of the special episodes will take place entirely within the TARDIS, so we'll finally see the massive scope of the Doctor's craft. And we're not done with the Time War, by any means. [Veidt.com]
Chuck:
So we were lucky enough to dig up some actual script pages from the fifth and sixth episodes of the new season of spy-database-brain comedy Chuck. They're "casting sides," which means they're for audition purposes. But they appear to be actual pages from the scripts.
In the fifth episode, we start off in 1983, where Jeff Barnes, sporting a mullet and mustache, has just won the Moto Industries Missile Command championship. He's asked what's next for him. Flanked by two bikini babes, he says: Why decide, when I've got so many tasty options? Then it's 25 years later, and he's working at the Buy More, wistfully muttering to himself about his "tasty options."
Some terrorists have taken over Moto Industries. Casey and Chuck show up to infiltrate the place, and Chuck tries to use his nerd skills to talk his way in with the geeks up front. But the PhDs at Moto Industries are not impressed with Chuck's paltry nerd-fu. "Why don't you help some old lady log onto AOL or something?" So Sarah has to go in and flash some cleavage to get the nerds' attention. The nerds fall all over each other to help fix her computer. Meanwhile, Casey decides to sneak around, leaving Chuck where it's safe - but as soon as Casey's gone, a terrorist turns up. But Chuck talks his way into Mauro Moto's penthouse.
A Moto Industries satellite is going to destroy everything unless Chuck can get the control codes, which can only be found on the last level of every Missile Command game, as we explained before. Maury Moto explains that the mathematics underlying Missile Command are too complex for anyone else to reach that level: "the music of the universe." "As much as I loved making games, I hated making weapons," he adds. The terrorists have forced Maury to play Missile Command, so they can access those codes. "How many will die for my weakness?" he asks. But Maury has to keep playing the game, or it'll explode. "The kill screen doesn't end," he explains. So Chuck and Casey have to escape, leaving Maury to explode.