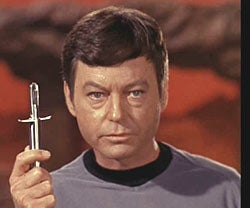 Welcome to Ask a Biogeek, a column where you ask UC Berkeley researcher Terry Johnson any question you want — no matter how weird.
Reader Mairi proxies the following question: My mom wants to know when we're going to get needle-less, painless injections.
While I personally covet the medical tricorder, I would almost prefer that my doctor have a hypospray - Starfleet's painless, needle-free injection system. The concept of a high-pressure alternative to a syringe dates back to The Shadow's radio show, and medical devices that function accordingly exist today. These, however, are not the only potential alternatives to a painful jab.