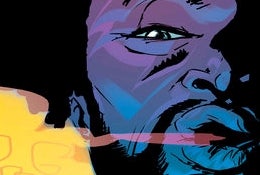 Signs that you can tell that it's getting near San Diego Comic-Con, Part 23: Indie comic publishers start releasing more material, hoping to avoid con glut while making sure that they'll have something to show the eager masses. So while Marvel and DC have relatively restrained Wednesdays, you'll still be able to find alien abductees, classic reprints and members of the Wu-Tang Clan in stores and under the jump.
Let's start with the most fun book of the week: Harper Collins' Method Man graphic novel, written by and starring the Wu-Tang rapper as Mosely Paine, a Hellboy-esque monster hunter in a city known only as "One Bad Ghetto, USA." I smell potential movie deal...
Oddly enough, this isn't the first Wu-Tang comic - that would be 2002's The Nine Rings of Wu-Tang - nor will it be the last. GZA and Ghostface Killah are both working on their own graphic novels.
It's a big week for Devil's Due Publishing. They're releasing the first issue of a new Voltron series, Voltron: A Legend Forged as well as the alien abduction book NYE Incidents, which we've written about before. More mysterious alien lifeforms can be found in Boom! Studios' virus-from-beyond-the-stars Dominion trade paperback.