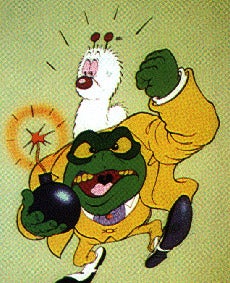 When did I first realize that Generation-X nostalgia was a driving the entertainment industry off a cliff? First all the toys I'd broken were suddenly on the big screen, thrashing each other and cursing loudly. Then the cartoons I learned to masturbate while watching were being acted out - with gravitas - by real actors. Now it turns out Sir John Gielgud is being dug up, resurrected and having frog DNA injected, so he can play Baron Silas Greenback in the new Danger Mouse movie. When will it stop?
As a card-carrying member* of Generation X, I am sick of Gen-X pandering from the entertainment industry. I lived through the 1980s, and they licked the first time.
They were a vapid time: full of neon, preppies, pastels, bad hair, callow materialism and Debbie Gibson. (Actually, I kind of liked Debbie Gibson. But don't tell anybody.)
Signs of the apocalypse include a He-Man And The Masters Of The Universe movie - why, Vishnu, why? - and a new 90210 sequel series, featuring some of the original actors. (Okay, so 90210 isn't science fiction, except that Shannon Doherty is some sort of mutant.) Not to mention a G.I. Joe movie, a Transformers sequel, a Knight Rider TV show, an Escape From New York remake, a Robotech movie, a Bill And Ted remake, another new Terminator movie and TV show, an A-Team movie, a Greatest American Hero movie, a War Games sequel and a Wolverine movie - even though Wolverine first hit in the 1970s, he didn't really hit until the 1980s. Plus, the Brits are bringing me a new Blake's 7 show!
Not to mention, the comics industry is obsessed with the comics that were coming out during the exact month I realized you're not supposed to act impressed by your first real kiss. Marvel is putting out a series that's actually called 1985, and the whole point is: it takes place in 1985. Plus the big money shot in Secret Invasion #1 is all the Marvel superheroes, looking like their 1980s counterparts, stepping off a spaceship as if they've been away for 20 years. And every DC comic for the past three years has been a rehash of Crisis On Infinite Earths. And did DC really publish a new Outsiders comic, or did I just hallucinate it?
Not to mention that they're using the magic of modern technology to put out a new Mega Man game that looks totally retro (i.e., crappy) and 8-bit. And you can actually buy an Atari 2600 controller with games that look just as crufty as they did when I drank 10 liters of coke and conquered Adventure.