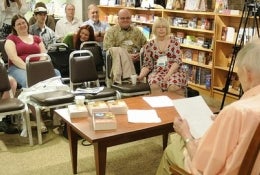 Born, according to those involved, of "unavoidable circumstances," this year's first combination of the author and fan-centric Campbell Conference (including the ceremonies for this year's John W. Campbell and Theodore Strugeon Memorial Awards) and the academic Science Fiction Research Association's annual meeting was apparently much less of a clash of alien cultures than a meeting of minds.
This weekend saw both events being held at Kansas University's Center for the Study of Science Fiction in Lawrence, KS, much to the pleasure of director of the center (and professor emeritus in the English department), James Gunn:
You don't usually get these types of groups working together in the same general avenue... there is this interaction between writers and teachers and critics at this meeting, which is special, I think.
Guests were shared between the two events, and included Karen Joy Fowler, Paul Kincaid and James Van Pelt, who offered a special seminar, "Teaching Science Fiction," to bridge the two conferences.
We already told you who won the Campbell and Sturgeon Awards, but in case you missed it: The John W. Campbell Award for best novel was given to In War Times by Kathleen Ann Goonan and the Theodore Sturgeon Award for best short story was split between two stories for the first time: "Tidelines" by Elizabeth Bear and "Finisterra" by David Moles. Moles was not only grateful for the award, but also for the attention of scholars from the SFRA meeting: