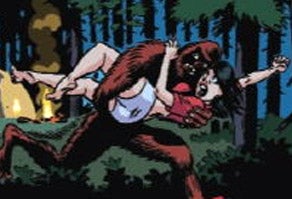 My new favorite blog is Weird Universe, a listing of weird happenings and cultural phenomena. It has three contributors: Ribofunk author Paul Di Filippo, one of my favorite writers of bizarre SF, Chuck Shepherd, writer of the News Of The Weird column for decades, and Alex Boese, creator of the Museum Of Hoaxes.
They're joined by underground cartoonist Rick Altergott to bring back the weirdness to save us from dull conformity. They say:
We believe in the power of the weird.

To entertain, to elucidate, to edify. To humble, to horrify, to honor. To shock, to surprise, to scandalize.

Most vitally, we believe in the power of the weird as the final frontier of gloriously untameable human nature. In a world that grows increasingly homogenous, regimented, authoritarian, timid and fearful, the weird stands as humanity's last best hope for spontaneity, ingenuity, bravery, goofiness, laughter, astonishment, and crazy wisdom.
Recent topics include the Jesus Toilet, a zombie garden sculpture and bizarre musicals. [Weird Universe]