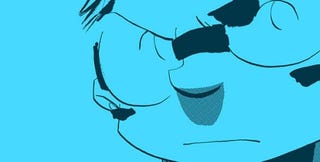 It's another of those slow weeks in comic stores - which, considering comics aren't hitting the streets until Thursday this week, may not be that bad a thing. (Blame last week's holiday; apparently, the price for independence is that your comics are late a week afterwards.) While publishers try to plug the gap with reprints, the week really belongs to giant robots and hippos in pirate outfits. Find out why under the jump.
Let's get the bigger publishers out of the way first: With the exception of a preview of Jeph Loeb and Tim Sale's next project, Captain America: White, Marvel pretty much lets this week slide to focus on the latest issue of Secret Invasion and a hardcover collection for Joss Whedon's (disappointing, let's be honest) Runaways story. DC, on the other hand, just seem to be letting it slide altogether, with the exception of Final Crisis: Requiem, a one-shot memorializing the dearly-departed Martian Manhunter. Instead, turn your attention to Dark Horse Comics, which is happy to fill the gap with their new Hellboy spin-off, BPRD: The Warning and equally new Indiana Jones series, Indiana Jones And The Tomb Of The Gods.
Perhaps, however, you'd rather read about robots in disguise who don't go around raping each other; if that's the case, then you should definitely pick up the first issue of Transformers: All Hail Megatron, the "What if the Decepticons took over the Earth?" series that we've told you about already and happen to be waiting for with baited breath. Watching Megatron rule our planet with a literal iron fist seem too much of a downer? Then there's also Transformers Movie Prequel: Saga Of The Allspark premiering this week, giving you all the backstory about the deus ex machina that Michael Bay didn't quite manage to get around to.