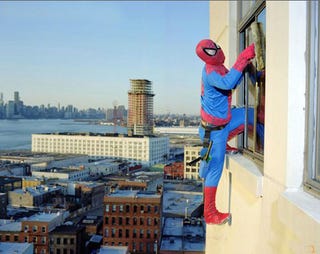 What if Spider-Man had been born in Guerrero, Mexico instead of New York City? What if he had to come to the United States surreptitiously, and was so busy working blue collar jobs to send money home to his family that he couldn't find the time to fight crime and kiss gringas in the rain? That's exactly what photographer Dulce Pinzon wanted to know, and the answer to that question formed the philosophical substrate for a collection of images she created last year. Each picture shows a Mexican immigrant at work in the United States, dressed as a superhero. Here you can see Bernabe Mendez, from Guerrero, doing his window cleaning. More below.
Here you can see Paulino Cardozo, also from Guerrero, who works loading trucks for a grocery outlet.
And here's Maria Luisa Romero, from Puebla, who works in a laundromat. She's dressed as Wonder Woman. I love the composition of these photographs, and the quiet, pensive expressions on Cardozo and Romero's faces.