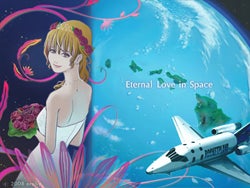 The Japanese are taking theme weddings to a whole new height: 60 miles above the Earth. A company called First Advantage will help you organize a wedding that ends with a one-hour space flight for the couple and three guests. The package includes a a four-day training program before lift off. Click through for more details on space love.
First Advantage has teamed up with commercial spaceflight firm Rocketplane Global, Inc., to create the space fantasy wedding. Rocketplane Global will bring you into space and give you four minutes of a gravity-free experience. What's the total cost for this wedding? About $2.3 million or 240 million yen each.
Space.com has taken the idea a little further: if there's a market for space weddings, why not space sex? They asked NASA how many of the astronauts have been getting freaky in the big black abyss. A representative explained:
"We don't study sexuality in space, and we don't have any studies ongoing with that," said NASA spokesman Bill Jeffs of the Johnson Space Center in Houston. "If that's your specific topic, there's nothing to discuss."
[Live Science and Space.com]