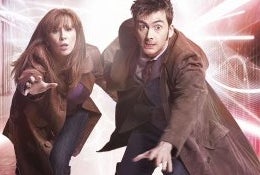 Now that he's almost done with Doctor Who, having wrung all of his fan fantasies dry with this weekend's season finale, Russell T Davies finds himself at a crossroads. So what's next for the man who brought television's favorite time traveler back to life? Davies hints at possibilities below the jump.
Talking to the UK's Daily Mirror newspaper, Davies explained how he knew it was time to leave the series:
I have got about 27 ideas boiling in my head [for non-Who stories] and that is the main reason why I've left... I love Doctor Who and I never want to go off it or get bored. Right now I want to go and work on series five, but I know that means it is the right time to leave. I get a lot of people who want me to come and make a family drama for them. But having done Doctor Who I have done the best - anything else would pale in comparison. I have almost got to go and do adult stuff, something a bit cheeky or sexy. I will just see which thing comes to the front of my mind first and start with that.
Not that he's not proud of what he's managed to accomplish in his four years with the show, as he admits:
Lot of people said we wouldn't get kids watching, saying they've moved on. And we proved them wrong. The show connects with people and it's fun. There is always that element of escapism with science fiction, but we have also had things to say about serious issues, such as Iraq and women's body sizes. I'm very proud of it because I've loved it all my life. If Doctor Who is on my headstone that would be great. So be it.
Davies has four more "special" episodes of the show left, running across 2009, before Steven Moffat takes over the reins of Doctor Who in 2010.
Exclusive: Russell T Davies on the future of Dr Who [Daily Mirror]