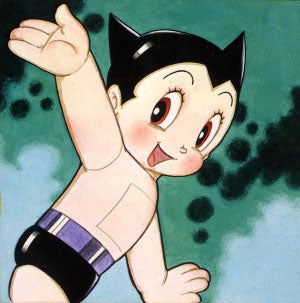 Welcome back to MangoBot, a biweekly column about Asian futurism by TokyoMango blogger Lisa Katayama. My childhood hero was a purple-haired robot who spends all her free time poking poop with a stick. Like all good Japanese children, my formative years were influenced by manga robot heroes-two-dimensional, two-legged machines that first existed in simple black-and-white on newsprint. These robots quickly evolved from inanimate drawings on paper into animated TV stars, and later spawned franchised products, movies, video games, and major museum exhibits. One even transcended man-machine boundaries to become the first robot, feline, and two-dimensional figure to become an officially recognized global ambassador. Amazing. Here's a quick list of four anime robots that played a huge role in making me into the human I am today.
Astro Boy

Birth year: 1963

Who he is: A doe-eyed robot with jet engine feet, eyes that double as searchlights, and a nuclear reactor heart, created by manga godfather Osamu Tezuka.

Lessons learned: 1. Robots are smart and good. (Astro Boy had decision-making skills and a heroic conscience built into his circuitry.) 2. International politics: nuclear power is only dangerous if used maliciously, or if there's an accident. 3. Optimism goes a long way even when your world is being ravaged by war.